How to access support articles from ioMoVo app?
Support Link walk you through the myriad of knowledge base articles. These articles are your support or helping hand in your journey of ioMoVo. It's an extensive and well-organized articles list that are arranged in different categories for easy and quick accessibility. Ask any question, and you will get instant and relevant answers list that are designated to your question.
For example, if you are stuck at indexing. Immediately click support link, and you will be redirected to Support articles page. Search Indexing and you will have all the articles at your display that are related with indexing
.
To access Support link, perform the following actions:

Click Account management icon at the top-right corner of the page, the pop-up opens.


Click Support link, the ioMoVo Support page opens at new tab.




Click any category icon and access all the associated articles OR search any term and access all the associate articles

.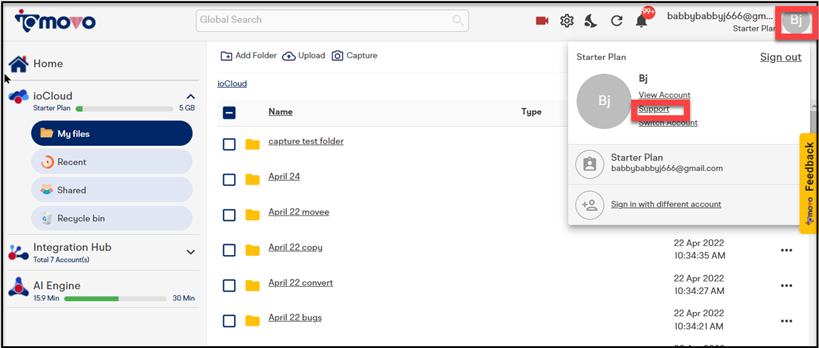 Related Articles

What is an ioMoVo connectors?

ioMoVo R connector allows you to bring your own storages and connect to ioMoVo. You can connect your external storage accounts such as, Google Drive, Dropbox, SharePoint, Azure, AWS to ioMoVo and move back and forth across different storages. You can ...

How to toggle between list and grid views?

You can toggle the list of files between Grid view and List view as per your convenience. There is no change in the features; only arrangement of files is changed in a display section. The view option is available at the top right corner of the My ...

How to view notifications?

The Notification bell works as an activity audit log and displays notifications for the all the activities done for content management in ioMoVo. Whether you upload, download, copy, move, create, delete or perform any activity on ioMoVo interface, ...

How to sort the list of files?

The list of files and folders can be sorted based on various criteria available in sorting feature. The sorting option is available at top right corner of My files page. By default, the files list is displayed in descending order of date & time. ...

How to permanently delete file/folder before 30-days?

Any file and folder reside in Recycle bin for more than 30-days expiry periods, will be automatically deleted. However, if you want to permanent delete the file and folder earlier than 30-days expiry limit, you can manually do it from Recycle bin. ...